IEIA Open Seminar is one of the most comprehensive seminar and expo focusing on the exhibition industry took place from 9 - 11 May, 2018 at HITEX Hyderabad. The 8th edition welcomed many national and international exhibition industry leaders from all over the globe to meet, network and shape the future of the Indian Exhibition Industry. The 3 day event held successfully provided the best platform for business networking among participants from 30 countries to exchange knowledge during the seminar.

The event was supported by various global forums of the exhibition industry including UFI, IAEE, AFECA, SISO, AEFI, UBRAFE, AUMA, CENTREX and IELA, representatives from 33 international associations.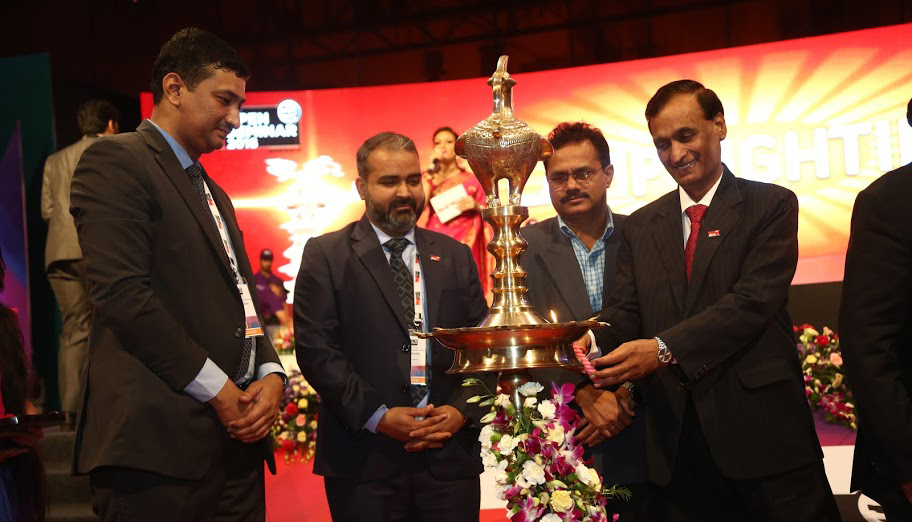 Mr. Corrado Peraboni, President- UFI, Mr. David DuBois, CEO & President- IAEE, Mr. Walter Yeh, President- AFECA, Mr. L.C. Goyal, IAS, CMD, ITPO and Mr. B. Venkatesham, IAS, Principal Secretary, Ministry of Tourism, Govt of Telangana were amongst the key dignitaries present on the dais with Mr. KV Nagendra Prasad, President- IEIA, Mr. Ravinder Sethi, Vice President- IEIA and Mr. Bhupinder Singh, Honorary Secretary- IEIA, who inaugurated the event with lamp lighting ceremony.

One of the most awaited initiatives for the exhibition sector in India taken by Indian Exhibition Industry Association (IEIA) with EAC - The Indian Exhibition Industry Report 2017 was unveiled by the dignitaries during the inaugural session. Along with that one more announcement made during session was the 'IEIA Lifetime Achievement Award 2018' which was given to Mr. Tarun Das, Founder Ananta Aspen Centre and Former Chief Mentor CII, for his outstanding contribution to the exhibition industry in India.

At the event Mr. KV Nagendra Prasad, President, IEIA stated ''The very objective behind making this event truly global was to showcase the potential of the Indian Exhibition Industry to the global leaders of this sector and also to provide a platform to discuss avenues & opportunities of collaborative business to the participating delegates. We are extremely happy to see the overwhelming response of the exhibition industry players from various countries in partnering with our member organisations in India''.

The event ended with valedictory session and formal vote of thanks by Mr. Max Fernandes, EC Member- IEIA.
Indian Exhibition Industry Association (IEIA) invites you to its 9th edition of IEIA Open Seminar, which will be held from 13 - 15 June, 2019 at India Expo Centre & Mart, Greater Noida.
Contact us to learn more about the IEIA and their initiatives to help you to improve your presence in the exhibition industry.