IEIA Open Seminar & Expo 2019 is an annual flagship event of the Indian Exhibition Industry Association (IEIA), where Indian Exhibition Industry comes together with its members, associates and international delegates to bring out new happenings in the exhibition industry to generate business opportunities for the exhibition industry players.
600+ national and international exhibition industry leaders are attending
High-level seminars by exhibition industry experts
Fair focused business generation event that ensures great results for participants
International standard venue including complete infrastructure for exhibitors and visitors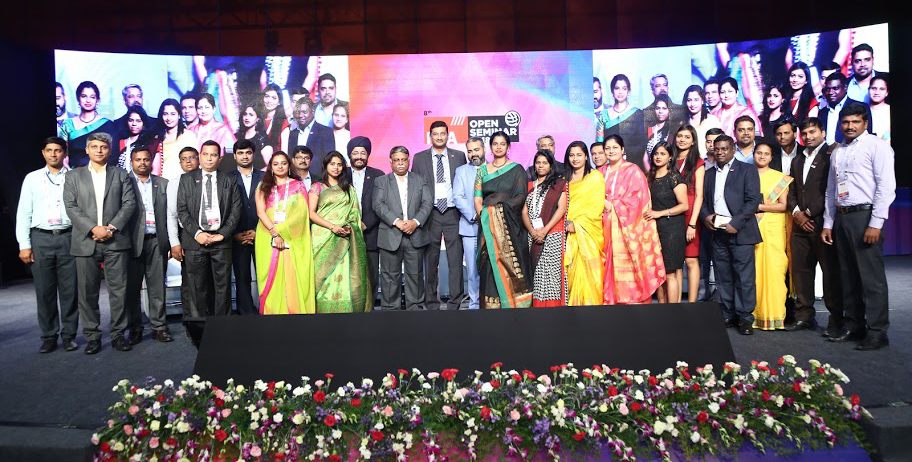 Network with national and international exhibition organizers, venue owners and service providers
Indian Exhibition Industry Association (IEIA) is providing plethora of opportunities to meet, share and build network with best in the industry
Few major participants in 2018 included, Ungerboeck Software International, Bangalore International Exhibition Centre, SACEOS, HITEX, India Trade Promotion Organisation, Messe Muenchen India Private Limited, Namdhari Events N Promotions (P) Ltd, UBM India Pvt Ltd, R E Rogers India Pvt. Ltd, NürnbergMesse India Pvt. Ltd, India Exposition Mart Ltd, Messe Dusseldorf India Pvt. Ltd, IELA, Telangana Tourism, JECC, Koelnmesse Ya Tradefair Pvt. Ltd and may more.
Many bodies supporting the events which includes IAEE, AFE, Italian Exhibition & Trade Fair Association, SISO, Centrex, Union of Exhibitions and Fairs Russian, AUMA and SBE.
Few testimonials from exhibition leaders:
I was pleased and honoured to have participated as a speaker amongst so distinguished colleagues in the 8th IEIA Open Seminar held from 8 to 11 May, 2018. This event certainly brought to the exhibition Industry in India and abroad a great opportunity to think and discuss the business, beyond the amazing doors opened for relevant networking. It was a great event! Corrado Peraboni, President, UFI

I'd like to pass on a massive thank you to you and all the team for a very special IEIA Conclave. It was a pleasure to attend, and I've learned a lot about India and will join your team in singing the potential that the country has to offer UK Organisers. Chris Skeith , CEO, Association of Event Organisers, UK

I would like to wish you a heartiest congratulations for an excellently organized IEIA Open Seminar this year. I must say that this year the Open Seminar has reached entirely new level with so many international delegations and co-operation agreements signed. Kudos the entire team behind it.Yogesh Mudras, Managing Director, UBM India Pvt Ltd
Contact us to learn more about the other concurrent events taking place during IEIA Open Seminar & Expo 2019 and how it can benefit you to generate business.